San Pedro, the town on Belize's largest island Ambergris Caye, is quickly becoming internationally known as one of the best vacation spots in the entire Caribbean. It's a bustling seaside town ready to welcome visitors with open arms. If you want easy access to the amenities San Pedro has to offer, SunBreeze Hotel is one of the best places to stay in town on the island.
A Great Location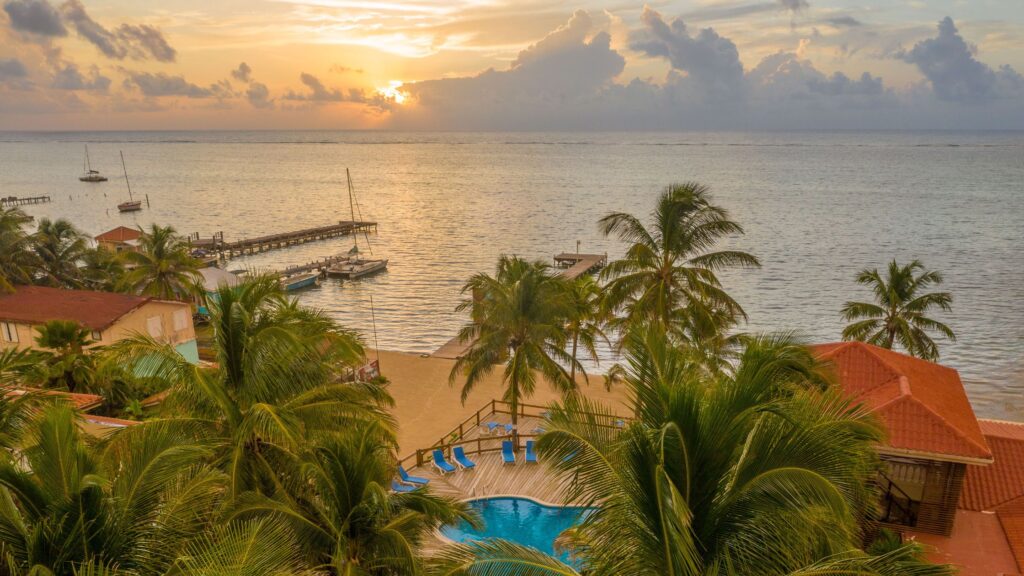 SunBreeze Hotel offers the best of both worlds. It is right in San Pedro, the main settlement on Ambergris Caye while providing a relaxing atmosphere overlooking the breathtaking Caribbean Sea and amazing Belize Barrier Reef. There is so much to do in San Pedro. The town is full of dive shops, restaurants, art galleries, and entertainment venues for you to visit and explore. Anyone who enjoys experiencing the local nightlife during their vacation will have a great time staying so close to San Pedro.
Step outside the town for just a moment and you will find yourself immersed in the serene beauty of the Caribbean. All you need is a rented golf cart to go and explore anywhere on the island and see the sights. The Hol Chan Marine Reserve covers part of the ecologically rich Belize Barrier Reef, which is the second-largest barrier reef in the world and a UNESCO World Heritage Site.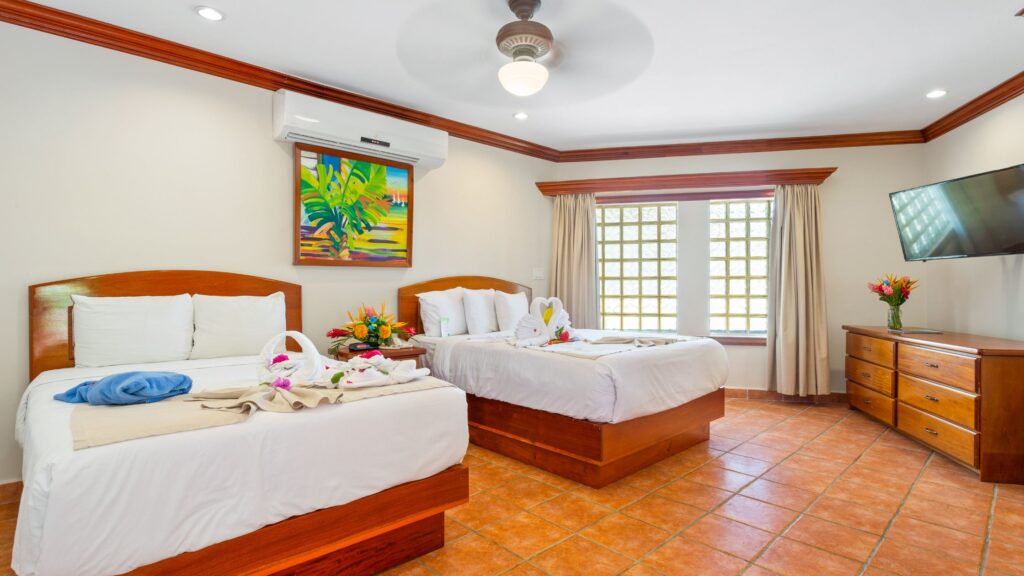 The hotel offers Standard, Deluxe, and Premier Rooms, all modestly priced and outfitted with modern amenities. SunBreeze also provides some accessible rooms for disabled guests, which not every hotel in Belize offers.
A large conference room is available for events, which comes with the services of an in-house event coordinator. SunBreeze Hotel is a great place to have your wedding, too. Its close proximity to San Pedro makes it easy to make arrangements for guests and entertainment, while the hotel itself will arrange for legal documents, an officiant, and all other wedding planning needs.
Located on the property and right next to the ocean, the Blue Water Grill strives to serve "Island Cuisine with a Twist." Locally known as one of the best restaurants in town, you will want to give it a try during your stay. You can also arrange for a private dining experience with your special someone while the waves lap nearby and the stars shine over your heads.
The resort is also home to Delmy's Unique Day Spa, which provides top-notch massages, body scrubs, and treatments for both hands and feet. Because the spa is a small, family-run business, you will get the kind of warm, personal care you can't get elsewhere.
So Much to Do
You will never run out of things to do while staying at SunBreeze. Whether watching birds along the shore, relaxing with a book on the dock, or embarking on an adventure to the mainland, you have an incredible variety of activities to choose from.
First, you will want to check out the on-site dive center, Ambergris Divers, which is PADI-affiliated. Catering to experienced and novice divers alike, the center offers both snorkel and SCUBA tours as well as dive courses, all from certified instructors.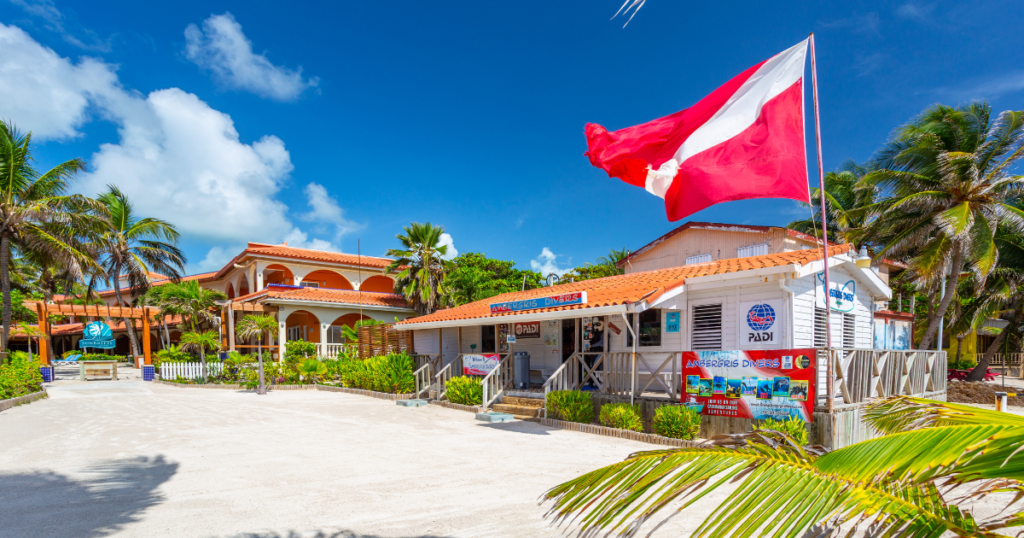 Choose between several sailing tours if you want to experience the Caribbean the way it was meant to be. If you love fishing, SunBreeze offers several different types of fishing tours, including ones for fly, deep sea, and reef fishing for both full and half days.
Head Inland For More Adventures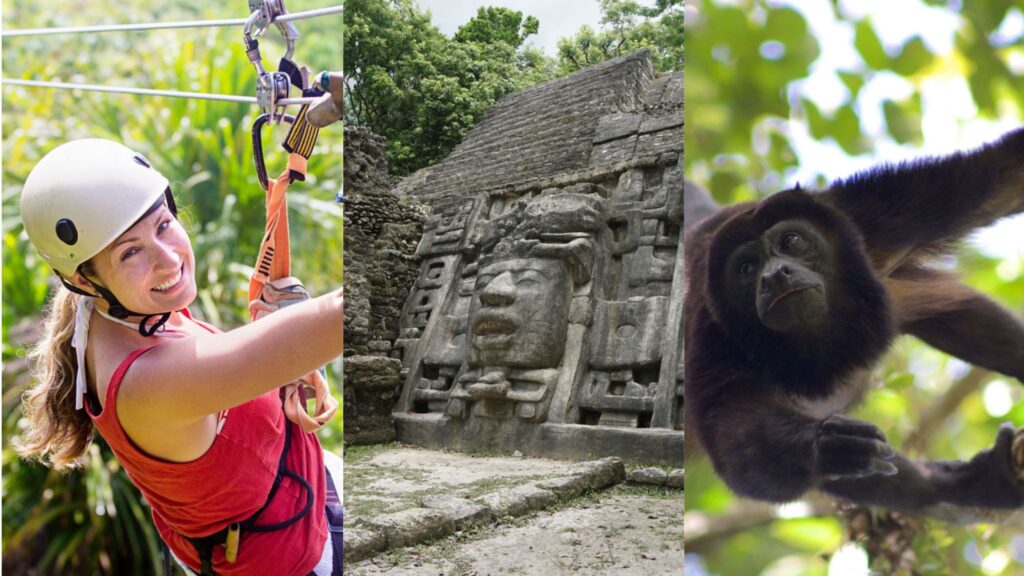 If you want to experience more of Belize, take one or more inland tours. Soak in the majesty of Lamanai, an ancient Maya ceremonial site while looking for local wildlife along the way. The Zipline & Cave Tubing tour will get your blood pumping as you zip to eight different stages through the rainforest before you get to relax into an inner tube and see some astonishing caves. This tour also includes a visit to the Xunantunich Maya site. The Belize Zoo tour is another favorite, where you can learn about the animals native to Belize and the conservation efforts to protect them.
Plan your perfect getaway in paradise at SunBreeze Hotel. With its great location next to so much to do, you are sure to have an engaging, memorable experience.
Original Article Caribbean Lifestyle : Writer Larry Waight