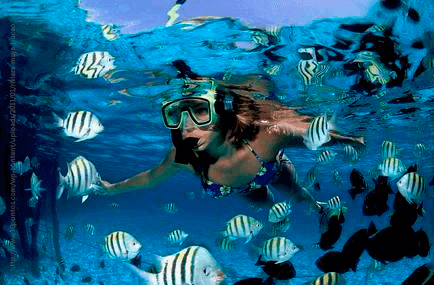 Belize has the second-longest reef in the world, with different depths; from coral gardens to the deeper, large shallow structures in which you´ll have contact with exotic marine animals.
It doesn´t matter if you haven´t done it before, you´ll be able to enjoy this majestic sport. If you don´t have the necessary equipment, many dive centres will provide you with it.
All year long is diving season. The encounters with whale sharks are almost guaranteed from April to June in the south side of the barrier reef.
The weather in Belize is tropical, so it´s warm throughout the year, particularly on the coastline. Summertime temperature is around 24-29 ° C or 84° F, while during the winter it´s around 21 ° C or 70° F.
Belize is a great place for diving. The Caribbean barrier is only about 20 km (13 miles) from the coast. In addition to diving, there are all kinds of attractions: cays, mangrove forests, mountains, Mayan ruins, and more.
Remember to bring sunscreen, swimming gear, comfortable clothing and the will to have fun so you can enjoy your stay here, a place full of history, flora, fauna and outdoor activities.
When you get to know Belize you´ll never want to leave!