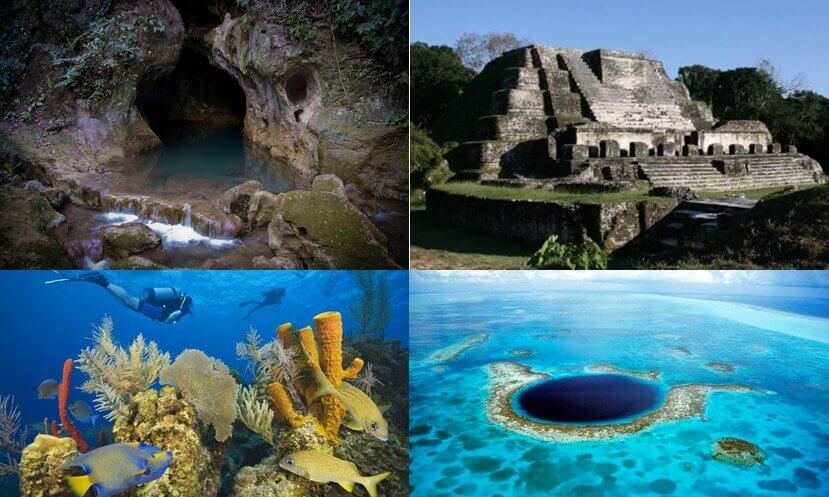 Belize is recognized for its incomparable natural beauty, full of coral reefs, caves, virgin forest, waterfalls, archaeological sites, beaches and more. If you're looking to escape from the routine, you should definitely visit. In order to enjoy Belize´s beauty, you should plan to arrive during the dry season, between December and May.
Coral reefs are a destination for expert and novice divers from around the world. The most popular reefs are located on the coast. Belize has the world's second-largest coral reef, the Belize Barrier Reef, extending about 900 km along the coast of Yucatan and Belize.
The Great Blue Hole, it´s a huge landslide underwater off the coast of Belize, near the Lighthouse Reef. The hole is more than 300 meters wide and 123 meters deep. The Great Blue Hole is a UNESCO World Heritage.
Visit the archaeological sites with ruins from the Mayan civilization. The most beautiful destinations are Altun Ha, the most important site in the country, Xunantunich, Nim Li Punit, Lamanai y Lubaabtum.
Experience a fabulous day of sailing, snorkeling, beach, combing and relaxing on a beautiful sandy island with crystal clear water.
Visit the Actun Tunichil, also known as the ATM cave. It´s located at the heart of the Tapir Mountain Nature Reserve, visits to the cave are only permitted if accompanied by a certified guide. Entering this cave is a complete adventure! Visitors will have the opportunity to travel back in time and learn about the Mayan culture, and witness a living museum where human sacrifices and artifacts can be seen in their original context.
What are you waiting for? Visit Belize and enjoy all of these activities!