San Pedro Belize Hotels
If it's your first trip to San Pedro, here is some information we would like to offer that would, hopefully, enhance your stay.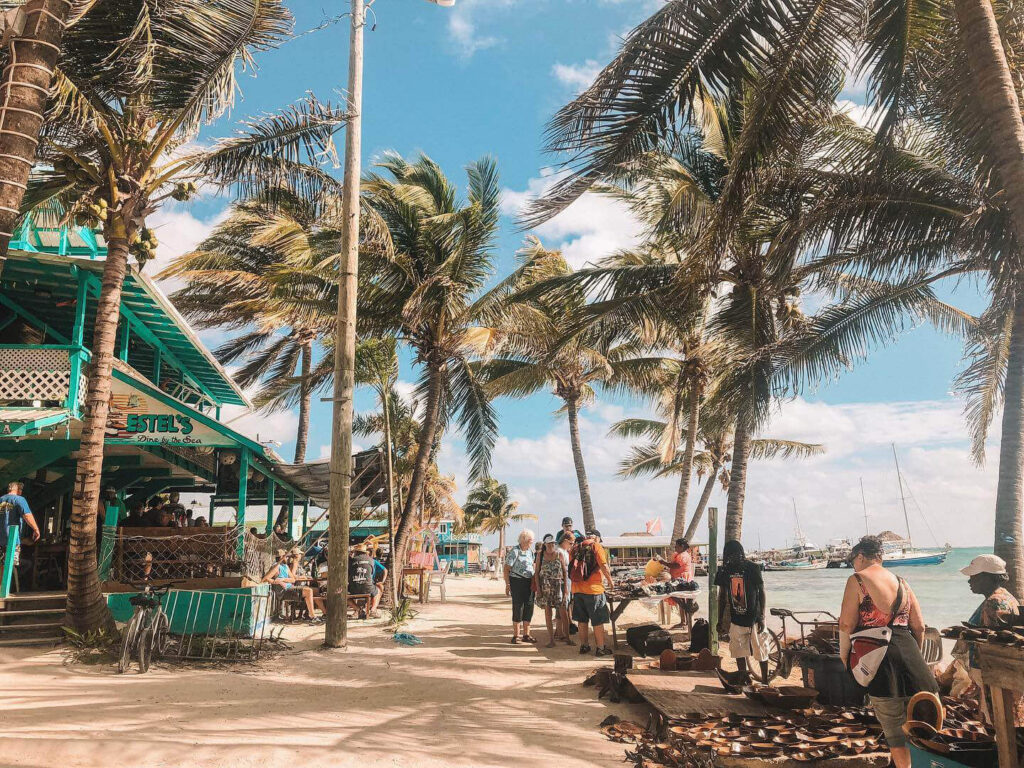 Ambergris Caye & San Pedro Belize Hotels
Think of Ambergris Caye, an island, (Belize's largest island) featuring an almost untouched mangrove swamp in the centre surrounded by a white sandy beach and turquoise blue water. San Pedro Belize hotels are the largest grouping of hotels and resorts on Ambergris Caye. The island is known for, scuba diving and water sports mostly because of the second largest barrier reef in the world just off its eastern shore.
Ambergris Caye is also known as La Isla Bonita after a popular song by Madonna released in 1986 – a song about San Pedro, La Isa Bonita.
Because of the barrier reef, there are relatively small waves coming to shore on the eastern side of the island, so the waves there are not large. It creates perfect calm waters for family snorkel adventures.
Ambergris Caye is an island, separated from the Yucatan, Peninsula of Mexico by a narrow body of water that may be natural or may have been a canal created by seafaring Mayans which seems to be the local legend. This channel is located at Bacalar Chico – and is a Natural Reserve.
Bacalar Chico National Park and Marine Reserve is accessible by boat but requires an hour-long ride from San Pedro to reach it. It is a breeding area for green sea turtles and loggerhead turtles as well as Queen conch, Nassau and Yellowfin Groupers.
A great deal of the island is completely undeveloped, Bacalar Chico National Park and Marine Reserve is 28, 169 acres of protected area and is a terrestrial and marine park and a UNESCO World Heritage Site is located on the northern tip of Ambergris Caye.
Hol Chan Marine Reserve and Shark Ray Alley off the southern tip of Ambergris Caye, located right by the barrier reef. A Must-Do snorkel adventure when visiting San Pedro, Belize. It covers about 7 sq. miles and just as the name suggests it has plenty of sharks and rays, and many different species of fish and spectacular floral formations.
The abundance of marine life in and around the Belize Barrier Reef makes Ambergris Caye a "bucket-list" destination for divers and snorkellers alike.
San Pedro is the town of the island and resorts extend for miles both north and south of the town. Hotels in Ambergris Caye range from hostels to resorts. There is something for everyone.
San Pedro Town Belize
San Pedro is a town on Southern Part of the island of Ambergris Caye in Belize. It is a very popular tourist destination in a country where tourism is a vital part of the economy.
There are around 25,000 local residents in San Pedro. It has the largest concentration of visitor accommodations in Belize featuring some of the best tourism facilities, like hotels, fishing and diving anywhere in Belize and possibly anywhere in the world still yet far from crowded.
San Pedro Town was a fishing village before it became the tourism destination that it is today. There is a welcoming, informal "vibe" to La Isla Bonita and the main methods of transportation are golf carts and bicycles. San Pedro is a very informal and relaxed place to be.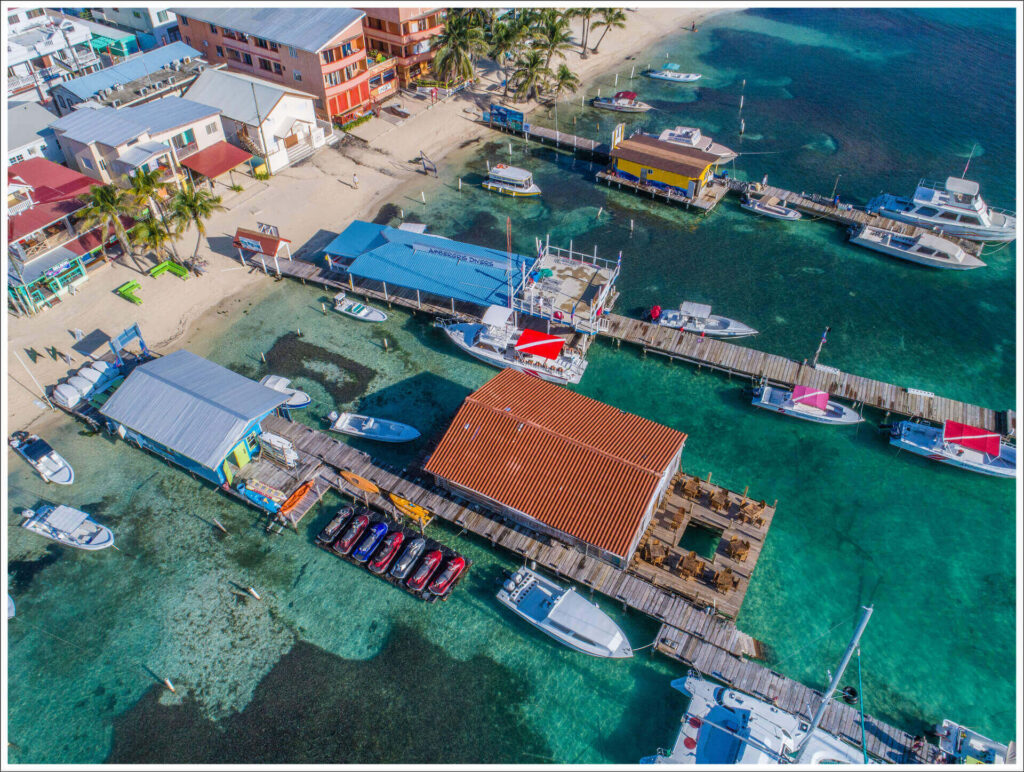 Tourism has grown over the years. There are over 100 San Pedro Belize hotels. Fishing has now become a tourism segment. Anglers all over the world come to experience Belize Fly fishing and/or spin fishing in the flats for Bonefish, Permit, and Tarpon or Reef fishing.
In San Pedro, Belize there is some of the best diving and snorkeling in the world with the largest barrier reef in the Western Hemisphere about half of a mile from the seashore. Most San Pedro Belize hotels can help you find a tour. Sunbreeze Suites and Sunbreeze Hotel offer diving and snorkeling packages as well as several other types of packages for first-time and returning visitors.
Of course, where great fishing and tourists come together you can expect plenty of fantastic seafood at almost every restaurant in town. Fresh seafood and cold Belizean beer " Belikin" surrounded by blue water with lots to do. What's not to like? You can find fresh seafood near most San Pedro Belize hotels, but Sunbreeze Suites is beachfront on one side, and San Pedro Town with lots of restaurants on the other all within walking distance or via golf cart.
We suggest you rent a golf cart, take a taxi, bicycle, or simply walk around San Pedro. While San Pedro is the most visited island in Belize, it is still not as popular when compared to other Caribbean Island – It is not as touristy. It's almost as much about what's not here as it is about what's here.
You won't find gigantic resorts in San Pedro, or huge malls with all of the latest luxury brands like you will in the Mayan Riveria. You'll find colorful local shops filled with friendly people.
This is a town that tourists have discovered but haven't yet changed its character. It's still a fishing village at heart.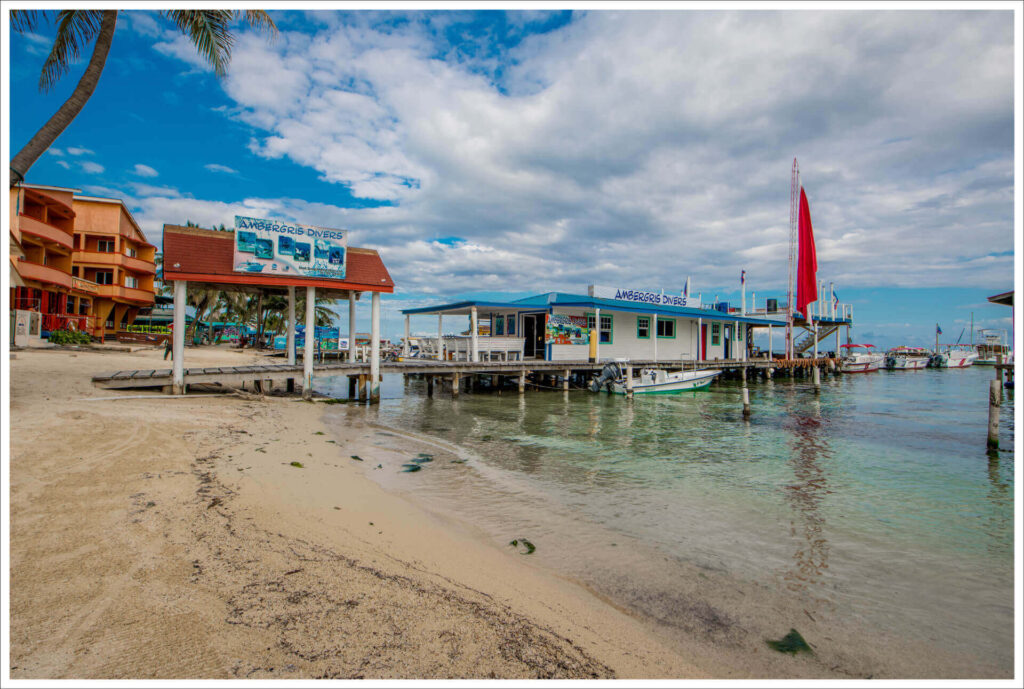 San Pedro Belize Hotels Snorkeling and Diving Packages
San Pedro Belize is one of the greatest islands in the world when it comes to snorkeling and diving. The second-largest barrier reef in the world, and the largest in the Northern Hemisphere is a short distance from the coast of Ambergris Caye. The underwater scenery is unlike anywhere else – literally teeming with life.
Many San Pedro Belize hotels offer tours and the Sunbreeze Suites is no exception. There are two snorkeling packages with your choice of 5 nights or 7 nights. View the details of the Sunbreeze Suites snorkeling packages. Sunbreeze Suites also offers 5 different scuba diving packages with all of the details on the Diving Packages page.
Best of San Pedro Belize Hotel Tours
In Ambergris Caye, there is plenty of sand to stretch out on. Because of the second largest barrier reef in the world offshore, no waves make it to the beach. All of the beaches are public even with a house on the beach so walk to your heart's content – there aren't any "no trespassing" signs on the beach. Here are some things to do in San Pedro:
Rent a golf cart and head north of Ambergris Caye to Secret Beach about 7 miles north of San Pedro Town. You'll find a beautiful beach and swimming area. Secret Beach is the worst-kept secret in Belize!

45 minutes by golf cart
Rent a golf cart and head 1 mile north of San Pedro Town – The Truckstop is a food container park and has fun nights such as movie nights, trivia nights, live music nights etc.
Perfect Swimming Location at Palapa Bar & Grill – located over the water just a 5-minute walk from SunBreeze Suites; Float in inner tubes while enjoying your Belikin Beer or Tropical Cocktail.
Watch the crocodiles at sunset while enjoying a fun afternoon. One mile north of San Pedro.
Crab Race – Tuesday! Hermit Crab Races at Canucks.
Boca del Rio Park is the go-to beach for islanders on the weekends. Rent a beach umbrella some lounge chairs and table, White sandy beach with swimming area and seawall all recently refurbished by the Belize Tourism Board and the San Pedro Town Council.
For islanders, the main "party nights" are like everywhere else – Thursday, Friday, and Saturday. However, since San Pedro hosts so many tourists, there's something interesting to do every night of the week! There are bars featuring Karaoke and live music, or you can go to the movies at the Truck Stop on movie nights Karaoke, live music, and movies are some of the offerings you'll find most nights in San Pedro Town.

The main mode of transportation is a golf cart.
Airport, Flights & Ferries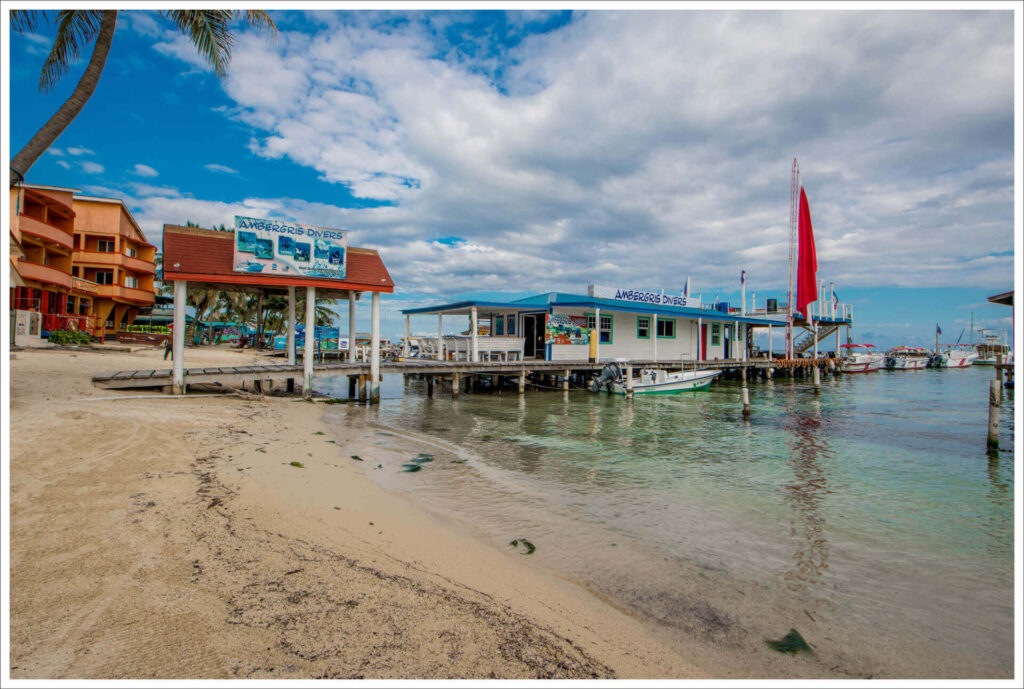 There are many ways to get to and from San Pedro. You can fly from Belize City with scheduled service from either Maya Island Air or Tropic Air. You can take a ferry that has regularly scheduled departures from Belize City, or you can use the services of a water taxi on your own schedule.
The Airport in San Pedro is John Greif II Airport is an airport that serves San Pedro and Ambergris Caye, Belize. The airport has maintenance and terminal facilities as well as a paved and marked runway.
The airport is right in the middle of the bustling town at 7 Coconut Dr, San Pedro, Belize.
Weather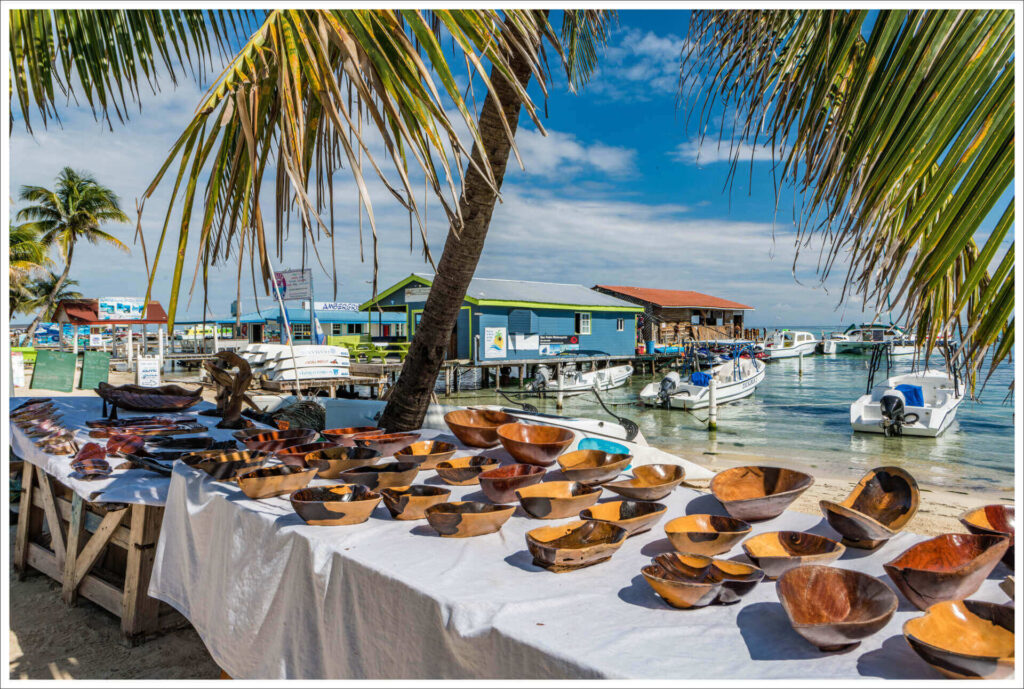 In San Pedro, the summers are long, hot, very humid, and often overcast. Summer is the rainy season. The winters are warm and mostly clear which makes it ideal for North Americans and Europeans trying to escape winter in their own country.
Over the course of the year, the temperature typically varies from 72°F to 88°F and is rarely below 66°F or above 90°F. Most of the tourism occurs from mid-December to late April which coincides with the sunniest part of the year in Belize, and not quite so humid as the summers.
Check the weather for San Pedro for the next 14 days here.
Real Estate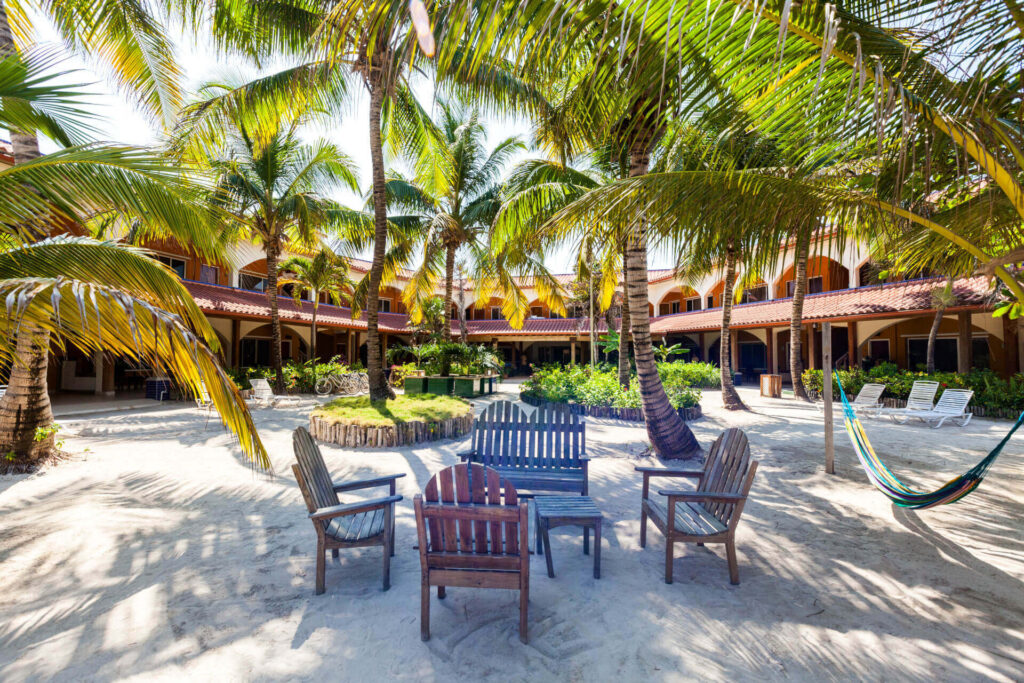 Many people come to the island as tourists, fall in love with the island and decide to make more permanent arrangements.
San Pedro boasts a busy real estate market with properties of all types for sale throughout the island. Do you want to be a resort owner? Restauranteur? Homeowner? There is something for everyone in San Pedro.
Most of the real estate available on Ambergris Caye is along the seashore on the island's coast or in San Pedro Town. The center of the island is relatively undeveloped.