We welcome you with our warm Belizean Hospitality. As we continue to ensure the health, safety and well being of our guests and employees. During these past few months as we prepare to meet and exceed the requirements of the standard set out by the Belize Tourism Board hotel and tour operators Tourism Gold Standard Certificate. We have carried out extensive training with our employees to enhance the cleaning and sanitation throughout the property including our partners at the Shalom Day Spa, Ambergris Divers and Blue Water Grill Bar and Restaurant.
A program manager whose responsibility will ensure that collectively we adhere to the health and safety plan that was developed for the property.
Wellness check by taking temperature of all employees before commencing work and guest will have their temperature taken at check in and periodically thereafter. With temperature exceeding 37°C we will be required to report to the Ministry of Health in order that they may provide us with instructions.
All guests are responsible to cover their expenses for medical attention, transfer to and from the medical facility and if quarantine is required.
Physical distancing 6 feet apart is being enforced for employees and guests where possible. Unless you are a family traveling together you will be excused.
Seating at Blue Water Grill has been modified to 50% capacity to ensure there is 6 feet between tables.
All public areas have procedures implemented to have high touch areas and spaces sanitized and disinfected regularly.
Our guest rooms have trained employees to pay attention to high touch areas and items such a TV remotes, A/C remotes, telephones etc. Your room will have been fully cleaned, disinfected and sanitized before your arrival. A Gold Standard Card will be hanging on your door supporting that all GST cleaning standards are met.
Employees have been provided with the personal protective equipment such as face mask, face shield, rubber gloves and all other PPE's needed to be safe and to make sure you too are safe. All guests will be required to wear face mask while in public spaces.
Sanitizing stations has been established in strategic areas available for all employees and guests.
We have minimized the need for physical contact at check in such as requesting guest to pre-register by providing us the information required and by being able to make online payments at checkout. Our Blue Water Grill allows for online ordering and online payment as well.
We look forward to having you with us and in making your stay most memorable.
INFORMATION YOU NEED TO KNOW: FOR ENTRY REQUIREMENTS AND PROTOCOLS FOR VISITORS
Belize's number one priority is establishing enhanced health and safety measures to protect you and ensure that you'll enjoy your vacation.
The following are some guidelines to help prepare you for your trip and what you can expect when you arrive in Belize.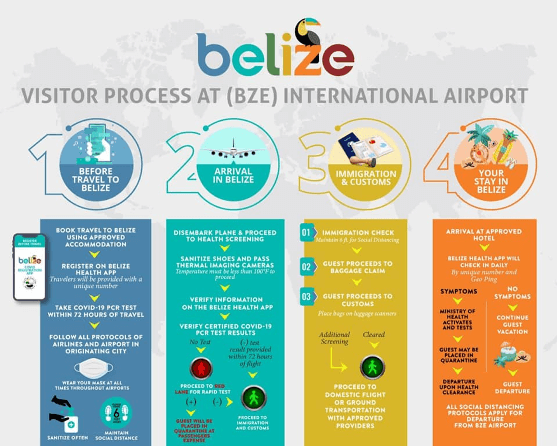 Before Your Visit
Download the Belize Health App and complete the required information prior to boarding the flight to Belize. A QR code with a unique ID number will be returned to you, and will be used for contact tracing while in Belize.
We encourage you to take a Covid-19 PCR test within 72 hours of travel to Belize. All passengers must undergo testing upon arrival, however bringing along a negative PCR test can shorten your processing time.
On Arrival in Belize:
On Arrival in Belize:
You will disembark the plane – wearing a face mask and proceed to health screening.
If you brought along your negative COVID-19 PCR test you will proceed to the 'fast track' lane for Immigration & Customs processing.
Persons who do not bring the results of a PCR test will be tested by health officials before they will be allowed to enter the terminal building.  Test results take approximately 15 minutes to be received.   Testing is at the passengers' expense and costs US$50.00. 
Proceed to Immigration and Customs, and then exit the airport via the Safe Corridor using approved air or ground transportation. 
A positive test result will require you to quarantine for 14 days in a Government approved hotel at the passengers expense.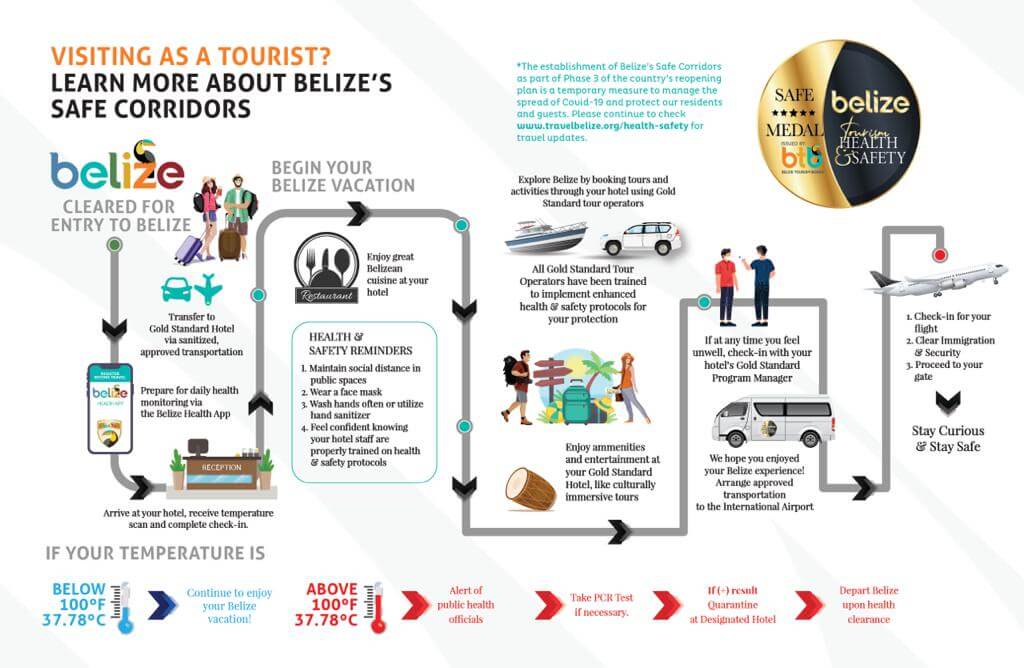 During your Stay in Belize and at SunBreeze Hotel:
While in country facemasks are mandatory in all public spaces, and you are expected to practice social distancing and proper hand hygiene to protect yourself and others you come in contact with.
Our property offers full service amenities (restaurant, bar, pool &/or beach access, and onsite activities).
During the initial phase of reopening, Guests will not be allowed off the hotel compound unless accompanied by an approved GST tour operator on a tour. We can arrange guided tours with our approved Gold Standard Tour Operator.
Please let us know what your interests are and we will gladly arrange these tours for you with an approved operator.
For further information on the new destination protocols and frequently asked questions, please visit: https://www.travelbelize.org/health-safety